Infamous Anthony Weiner Checks Into Rehab For Sex Addiction
1 year ago
444
Infamous Anthony Weiner Checks Into Rehab For Sex Addiction
Former New York Congressman Anthony Weiner has checked himself into a rehabilitation facility and currently seeking treatment.
If you are wondering - What kind of illness befell on the Former New York Congressman Anthony Weiner, then you would be surprised that it was because of a nasty case of sexual addiction!
Former husband of Huma Abedin and former NY Congresman, Anthony Weiner, Is in a rehab facility again after seeking treatment for 'sex addiction', according to
DailyMail
.
Weiner was once before treated for 'sex addiction', after sending sexually charged messages and pictures to a teenage girl.
He was still married with Huma Abedin when he was texting the 15-year-old girl that he is 'hard' and he will'bust that tight p****'. after he send her unclothed pictures he told her that he has 'rape fantasies' about her, knowing that she is only 15 years old - she told him previously.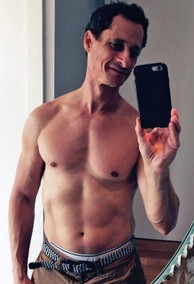 Hillary Clinton's former associates clearly have many problems and issue on their hands, involving themselves in many criminal activities and scandals.